What Parents Need to Know About School Bullying
Setting clearly defined standards of behavior for your kids can make all the difference in the world!
Just like a teacher, educator, business manager or owner needs to set standards of performance to measure their successes and address their challenges, parents in turn should have conversation with their children and set up clearly defined standards of behavior for in AND out of school. 
Here are 5 examples of highly effective standards you can set for your children.
Encourage your children to help others. If they witnessed a bullying incident, they should act immediately and appropriately by informing an adult whom they trust in and will help.
Teach your children not to join in but to have respect for others differences.
Share stories from your own childhood about good and bad situations. These stories will come alive in their hearts and minds; examples from which your children will learn from.
If another child accuses your child of bullying, listen with open ears.
Don't dismiss roughhousing or teasing as kids will be kids. Even good children make bad choices.
A Mom On A Mission! 

Another parent, educator or school official comes to you with a bullying concern, what next?
What do you do?
How should you react?
Keep in mind they're not informing you your child is bad or judging your parenting abilities; it's just the opposite!
That parent/educator is giving you an opportunity to show just how positive a parent you are by listening to the situation…and helping correct a negative behavior.
Your children need to see you're taking the issue seriously. This will provide a distinct incentive to change their own behavior.
Gabe and Izzy: Standing Up for America's Bullied is a wonderful text to introduce and bring to light the consequences, feelings and issues associated with bullying.  Gabrielle Ford lends a clear, relatable voice that reaches even the most hardened heart with her story of her personal experience and ultimate triumph over being bullied.  The students at Charles F. Johnson elementary school not only embraced Gabe's message but really connected with her during her visit! 

Wendy G.
Elementary School Teacher
Suspect your child is being bullied?
Encourage them to reach out and not hold it in or hide it; then you in turn can reach out to others, such as their educator or to the other child's parents or both. Your child needs to feel comfortable coming to you with their problems. Seeing your communication can bring about positive change.
A great opportunity for parents might be to reflect on their own behavior.
How are you reacting to people from different social, economic or racial backgrounds?
Have you told any jokes to your friends that you don't think your children would hear? Actions speak louder than words; and will influence your children's behavior. 
Television shows or movies that ridicule characters for being different can have an adverse affect on your children's behavior, but also provide an excellent opportunity to teach your children acceptance of others.
Sponsoring a bulk book purchase for a school

or classroom takes courage.
Parents and educators… helping the victim.
Adults who see children struggling with bullying are often at a loss to know how to help. Have a peek at these tips from the United States department of health and human services site at www.stopbullyingnow.hrsa.gov for guidance.
Be discreet.
Be careful to give too much public support since kids are wary of what other kids see and know.

Learn what's going on.
Find out how long the bullying has been going on, who is doing the bullying; and what the victim thinks about.

Build the student up.
Students should know that they're courageous to come forward; that this will help other students as well as themselves.

Make sure the student feels safe.
If the student wants confidentiality, grant it. If this student just wants an ear, be that ear. If you confront the bully or talk with other educators or parents, make sure the victim's identity is protected.

Talk with other adults.
Other educators and parents can provide advice as well. Their observation of the situation can help prevent further incidents.

Help the student find a support system.
Finding friends and confiding in parents ensures that victims don't feel alone.
You may not agree with everyone's lifestyle or appearance, but deflecting 'labels' is a powerful action against school bullying.
It doesn't matter if we are short, tall, thin, overweight, have a scar, have different colored skin, different texture and color of hair, part of the different religion, or physically or mentally disabled.
Accepting other people's differences is a wonderful thing. Think about it: if we were all the same, wouldn't it be a really boring rule?
No student should be afraid to go to school or connect with their friends online.
'Still Dancing' Bulk Purchase Program
for Schools & Educators, Communities and Businesses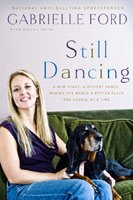 Click to Purchase Now
Receive a 10% discount PLUS Free Shipping with in the United States when you purchase 10 or more books. Simply insert coupon code SAVE10 at checkout. SAVE EVEN MORE! Purchase 25 or more books and receive a 15% discount PLUS Free Shipping with in the United States too! Just enter coupon code SAVE15 at checkout.