Anti-Bullying Speaker for Schools – Rhonda Hillman
A Puppy Walked Into My Office..
When Gabe Ford, her mother Rhonda Hillman and a puppy walked into my office, I naturally focused on the puppy. Who wouldn't when presented with an adorable coonhound with some of the largest ears God has ever created? Little did I know, Gabe and her mother were the real story, and through the next several years I would be impressed again and again with the strength and character of this young woman and her mother, and the remarkable experience in which they had somehow chosen to include me.
The puppy was named Izzy and sadly, as it turned out, Izzy had some health issues. In life's quirky way, these health issues proved to be a Godsend as they propelled Gabe and her mother Rhonda in directions I don't think they ever consider, and provided all of us, the most precious and profound experiences of our lives! Certainly for me, a veterinarian of 23 plus years, I have had many opportunities to meet extraordinary people and pets, but not with the impact of Gabe, Izzy and her mother Rhonda.
The challenges they faced together, the growth I was able to watch, the very tiny part I was able to have in that growth all had a very positive and profound impact on my life. Gabe and her mother Rhonda are truly amazing women, and I have been very privileged to have them touch my life. Their story is a testament to Gabe and her mother and a goofy coonhound with great big ears. I am richer for this story. I hope you are too
Sincerely,
Dr. Sandy Smith
Izzy's veterinarian
A Mom On A Mission!
Your group can experience first hand the positive energy that attracted Animal Planet, The Today Show, Parent Magazine, Woman's World and Cosmopolitan magazine to Gabe, Izzy and Rhonda's amazing story.
Your speaker, Gabe's mother Rhonda, is a loving and caring mother with an anti-bullying passion that has stayed the course of preventing many from being bullied. A target herself, she knows first-hand how bullying feels deep inside a person's soul. She taught Gabe the importance of forgiving others so that Gabe wouldn't hold on to hurt, anger, and bitterness or remain an unhappy person.

Rhonda spent many years with Gabe and, Izzy, traveling across the country, in and out of airports. She drove them long distances through snowstorms, icy road conditions, rain, wind, and winding mountain road, to ensure that they'd be able to share their anti-bullying message.
When traveling by plane, Rhonda would pull Izzy in her wagon with one hand and push Gabe in her wheelchair with the other. She would have to disassemble Gabe's wheelchair and Izzy's wagon every time they got on a plane, and reassemble them when they got on. After all that, Rhonda was still responsible for getting Gabe and Izzy from the airport to their destinations!
Quoting her daughter Gabe,
I'm not sure how she did it all, but she did. She says bullying hurts not only the person being bullied but the family, too. She is passionate about bullying; she does not want anyone to feel its wrath, because she, too, experienced bullying first hand as a young girl. Mom helped Izzy and I make our voices heard in a world of bullied students. No longer do students need to suffer in silence.
"Every student should be required to read or listen to this book."
– Lisa Arnold, Middle School English Teacher
Gabrielle Ford's inspirational story begins when, during middle school, she is diagnosed with Friedreich's ataxia, a rare degenerative muscle disease. Ataxia caused her to frequently stumble, wobble as if she had been drinking, and slur her words. Eventually she needed a wheelchair. Because of the disease's symptoms, Gabe was bullied throughout middle and high school. Students would mock, tease, and even punch her. It is heartbreaking to learn how she was abused.

It took a long-eared coonhound named Izzy, who curiously suffered from a similar condition, to lift Gabe out of a deep depression caused by the incessant abuse. Much like a Phoenix rising from the ashes, Gabe has become an internationally renowned speaker and anti-bullying advocate. Her story has been shared during a myriad of school assemblies, conferences and conventions, on the Today Show, and in the pages of Cosmopolitan Magazine. It is the most requested episode in the history of Animal Planet.  

Narrator Susan Bennett's comforting and pleasant voice adds another level of authenticity to Gabe's story. The seasoned narrator's clear and kind voice gently relays the importance of the story and is compassionate to both Gabe and the listener. She is a skilled voice artist. (Many people will recognize her as the voice of Apple's Siri.) Bennett's talents are a perfect addition to such a difficult yet encouraging biography.

Sidebars dot the story. Information on how to identify bullying, fight back when bullied, stand up for someone who is bullied, and help someone who is a victim of bullying is included in the narrative. Countless letters from students who have attended her school assemblies and are thankful for her bravery are also shared.

Gabe's desire is to break the cycle of bullying.

Reading or listening to her story will help.
Lisa Arnold spends her days teaching English to middle school students, her evenings working as a library clerk, and her nights reading under the covers. 
Sponsor program for
 a school or classroom of your choice.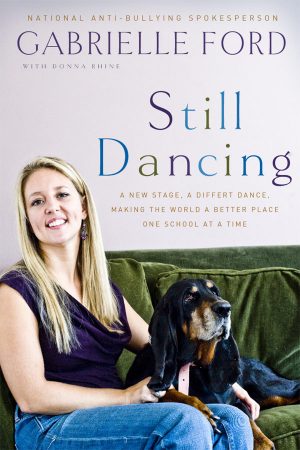 Still Dancing
One Dream, One Dog, One Stage


$19.95
*For international orders, please contact us.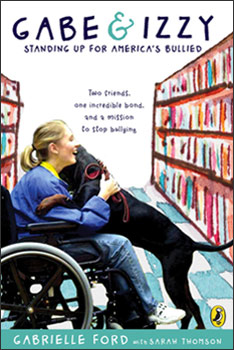 Gabe & Izzy
Standing Up for America's Bullied
Available at Penguin Random House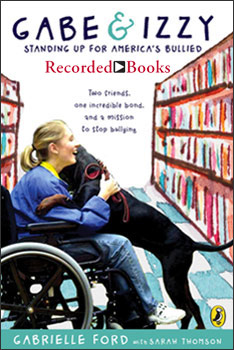 Gabe & Izzy Audiobook
Standing Up for America's Bullied
Available at Audible.com
Attention: Schools, Educators, Communities, Businesses…

'Still Dancing' Budget Purchase Program
Receive a 10% discount PLUS Free Shipping (a minimum $50.00 savings) with in the United States when you purchase 10 or more books. Simply insert coupon code SAVE10 at checkout. SAVE EVEN MORE! Purchase 25 or more books and receive a 15% discount PLUS Free Shipping (saving at least $125.00) with in the United States too! Just enter coupon code SAVE15 at checkout.